Understanding the Structure of Penofin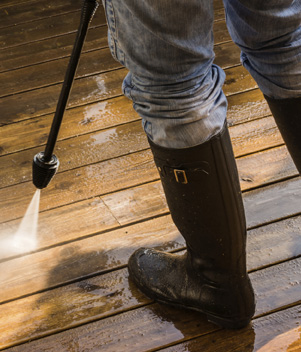 No other wood finish in the world is formulated like Penofin. Penofin's ingredients were chosen based on performance rather than cost. Penofin's special ingredients and innovations have made it the finest wood finish available.
Solvent: The solvent in Penofin helps disperse the oils in the formula and then will evaporate after application. If the solvent evaporates too quickly, Penofin will not dry uniformly. A fast evaporation rate would limit the penetration and allow dirt to adhere to the finish. The strength of the solvent complements the resin system, enabling ease of recoating. Penofin's solvent system was created to allow maximum disbursement and a stable evaporation rate, and for ease of application.
Binder: The Penofin binder system consists of resins and oils, and was formulated to offer the deepest penetration. Wood fibers will not dry out when protected and maintained, thus, avoiding the major reason for cracking. These oils create a micro porous finish which is flexible, and allows the Penofin finish to breathe. The wood will not split and water can exit as a vapor.
Alkyd resin: The component of the Penofin binder is a combination of polyhydric alcohol and fatty acid. These resins impart hardness (without brittleness) to the wood fibers. Fatty acids are triglycerides that are the basic acids obtained from linseed, soy, safflower, and walnut oil.
Brazilian Rosewood Oil: The primary oil in Penofin is strong, flexible, water-resistant oil which is also mildew and ultraviolet resistant. It is an oil that harvested from the seeds of the rosewood tree in Northeastern Brazil. The trees are carefully preserved for the oil-rich seeds and are used as shade trees in coffee production. No trees are cut to obtain Brazilian Rosewood Oil.
Mildewcide: We use the finest possible mildewcide to retard and prevent the growth of mildew.
Pigments: Penofin was the industry innovator in the use of transoxide pigments. They were first developed for the automotive industry. These pigments create the long-lasting metallic finishes on today's cars. They also penetrate to coat the individual wood fibers to provide even more protection from the inside out, as seen in the blotter comparison tests.
Solids: The solids in Penofin are those parts of the formula left after the solvent evaporates. There are no cheap extenders, inert, or filler-type solids in Penofin. This means the surface will not turn chalky or build up.
Penofin is the original high-performance wood finish; it is a low solid, non-film coating. There is no transparent wood finish on the market today formulated from, or using the same ingredients. Penofin's performance has made it the finest wood finish available.