Penofin OEM Partner Program

The Redwood Store
2536 E. Main Street, Farmington, NM
Tel: 505-327-6119
Web: RedwoodStore.com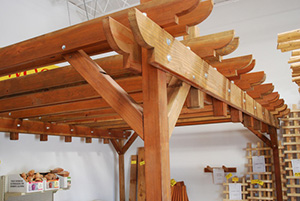 Penofin OEM Partner: The Redwood Store
BEAUTIFUL. SUSTAINABLE. UNIQUE.
California redwood furniture adds an element of warmth, beauty and distinctiveness unrivaled by other types of manufactured outdoor furniture. Our furniture designers are traditional craftsman. Every board is hand selected and finished to highlight the natural beauty of the wood. Each piece has its own unique visual character. Redwood is the most sustainable and environmentally friendly solution in that it draws on nature's most renewable resources, trees and sunlight.
We build with sustainable, environmentally friendly California redwood and seal our furniture with Penofin Penetrating Oil for a long lasting finish or you have the option of leaving the furniture unfinished to weather to a soft driftwood gray.