Penofin OEM Partner Program

Arboria
P.O. Box 17125, Portland, OR 97217
Tel: 503-286-5372 | 800-459-8718
Web: lwocorp.com
Penofin OEM Partner: Arboria
Arboria products are designed and manufactured by LWO Corporation of Portland, Oregon. Since 1980, LWO Corporation has developed a nationwide reputation as a designer and manufacturer of innovative, high-quality wood products for the home and garden. We are proud to feature distinctive, high quality sustainable furniture and garden structures as part of our Arboria family.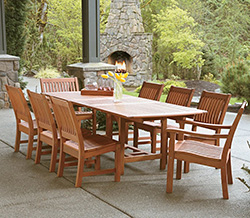 Our garden structures are made right here at our factory in Portland, Oregon from natural and renewable Western Red Cedar, Douglas fir and other fine woods. Our complete line of casual furniture crafted from superior grade, sustainable hardwood is designed by Arboria and built in Vietnam.
We are extremely proud to have gained chain of custody certification by the Forest Stewardship Council® for the wood in our furniture items. FSC® certification is the mark of credibility and assurance that we can provide to our dealers, distributors and our shared customers reflecting our commitment to the environment. We encourage you to download our FSC handout for more information. If you would like printed copies to distribute as sales literature just let us know, contact information is listed on this page.